Filter

Latency in the Arts
Focus Topic 2017
Our modern lifeworlds or lived realities change at breakneck speed – and yet things that seem outmoded, the things we believe to have discarded, do not just disappear from the world. So what happens to the things that were there before? How does something fall into oblivion, then continue to exert influence subliminally, and what laws determine how it subsequently re-appears? This process, described variously by Warburg as 'Mnemosyne', 'cultural memory', and 'afterlife', has particular relevance to our contemporary world – since it describes the power of forgotten texts and images to exert an unseen influence and then, without warning, to become a manifest presence once more. This process is the inspiration for this focus topic, Latency in the Arts, which hopes to spark a discussion on the phenomena surrounding latency: patterns of hiding and delaying, becoming invisible, and the hidden influences brought to bear upon cultural and artistic processes.
The aim is to explore the (mental) totems of latency around which these modern experiences crystallize: remains and reminiscences, anachronisms and relics, ghosts and revenants, layers of depth and sedimentation, hesitation and delay. Given their shifting figurations, the discussion will focus in particular upon the limited opportunities to observe these latent elements and pose the question: what happens to things once they have entered the latency phase? How is it possible to recognize 'latency' once the latent force has returned to the surface? Which rules determine the way it comes back to light? And what is the logic underlying latency that makes it so singularly relevant to the arts – whether in terms of concealing the sources, devices, and methods used, or its tentative reception by artists and the unexpectedness with which it can lend renewed relevance to the traditional canon?
---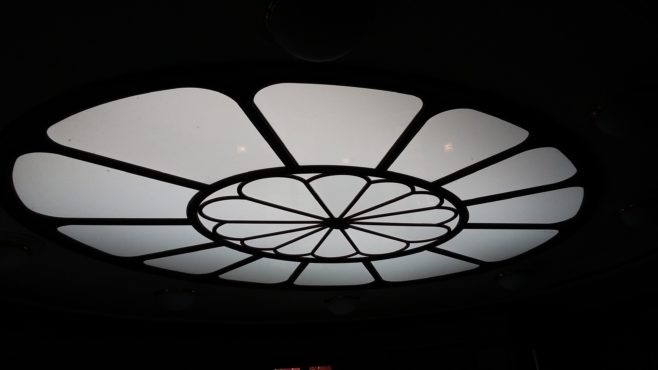 Die Ellipse als visuelles Symbol der Freiheitsidee
Warburg und Cassirer I
Im ehemaligen Lesesaal der Kulturwissenschaftlichen Bibliothek Warburg tagen die Teilnehmerinnen und Teilnehmer bei ihren Veranstaltungen unter einem elliptischen Oberlicht. Dies ist ausdrücklich dafür geschaffen, dass man sich hier an Freiheit erinnert und zur Freiheit ermutigt sieht. Aby…
150. Geburtstag Aby Warburgs / Kulturwissenschaftliche Bibliothek Warburg
---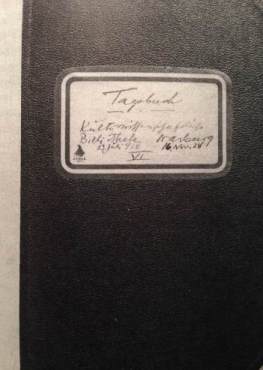 "Fühlungnahme durch tägliche Tagebuchnotizen"
Vor 90 Jahren: die Kulturwissenschaftliche Bibliothek Warburg beginnt ihr Tagebuch
Heute vor 90 Jahren, am 24. August 1926, führte Aby Warburg das "Tagebuch der Kulturwissenschaftlichen Bibliothek Warburg" ein. Nach dem Einzug der K.B.W. in den Neubau sollten regelmäßige Eintragungen Warburgs und der Kollegen Gertrud Bing und Fritz Saxl die Aktivitäten in der…
Kulturwissenschaftliche Bibliothek Warburg / OnThisDay
---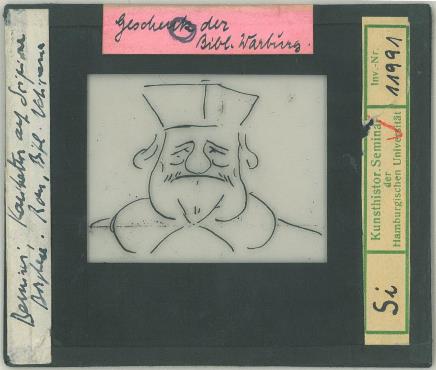 Die Diasammlung. Labor und Archiv der Kunstgeschichte in Hamburg
Ausstellungstipp
Mit der Digitalisierung verlieren Diapositive für die kunstgeschichtliche Forschung und Lehre an Bedeutung – höchste Zeit, sie als historische Objekte und Zeugnisse der Wissenschaftsgeschichte in den Blick zu rücken: Studierende am Kunstgeschichtlichen Seminar der Universität Hamburg sind…
Kulturwissenschaftliche Bibliothek Warburg
---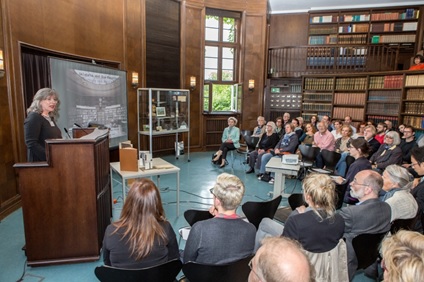 Volles Warburg-Haus mit Aby und Mary, Wissenschaft und Kunst
Rückblick auf den Tag der offenen Tür zum 150. Geburtstag von Aby Warburg
Ein volles Haus zu Ehren Warburgs! So viele interessierte Besucherinnen und Besucher zu unserem Tag der offenen Tür zum 150. Geburtstag des Kunst- und Kulturwissenschaftlers begrüßen zu können, war ein tolles Geburtstagsgeschenk am 13. Juni. Die rege Berichterstattung und das große…
150. Geburtstag Aby Warburgs / Kulturwissenschaftliche Bibliothek Warburg / Publikationen / Warburg-Professur
---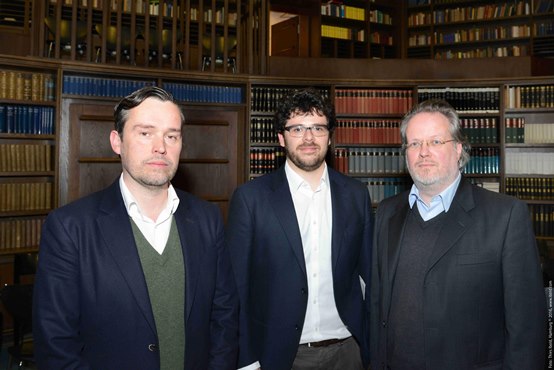 Bau und Bibliothek
Zum 90. Jahrestag der Eröffnung der K.B.W.
Am 1. Mai 1926 wurde die Kulturwissenschaftliche Bibliothek Warburg mit einem Vortrag von Ernst Cassirer feierlich eröffnet. Architektur und Bibliothek, Innen und Außen waren in der Konzeption der K.B.W. auf das Engste verknüpft. Genau diese Beziehung zwischen Bau und Büchern bildete auch den…
Kulturwissenschaftliche Bibliothek Warburg
---