The Research Centre for »Entartete Kunst«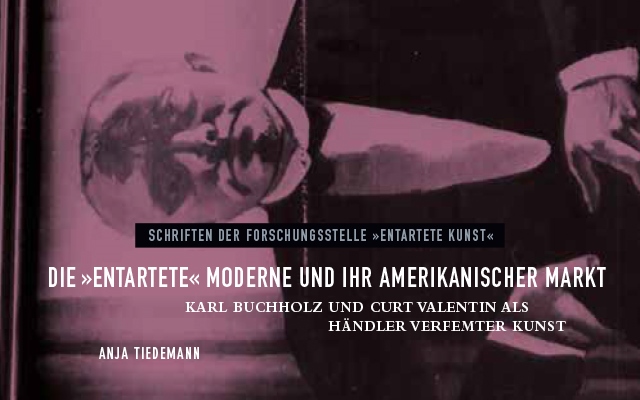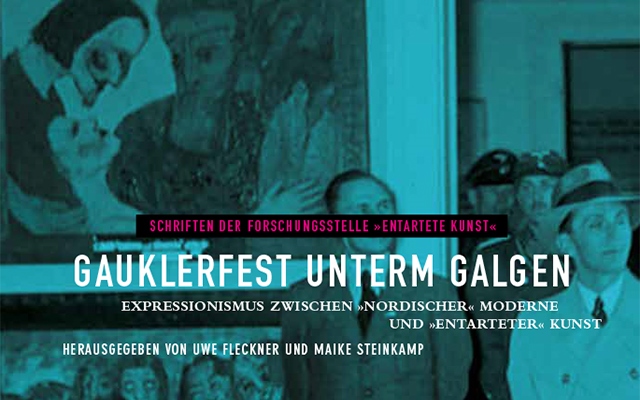 At the heart of our work is the study of Nazi art policies and their impact on national and international developments in the arts. A particular area of focus is researching the fate of artists that were defamed by the Nazis, determining what has happened to their works, and exploring the specific role of the art trade. Other research interests include the seizure of so-called »degenerate« artworks from German museums and their subsequent »disposal«. The repercussions of Nazi art policies post 1945 also play an important role in the centre's research.

---
Scientific director:

Projects:
In the summer semester of 2008, a series of lectures on the art trade during the Nazi era was held in conjunction with the Ernst Barlach Haus, Hamburg, and the Hamburger Kunsthalle. The lectures and accompanying essays on this topic were published in the collected edition Werke und Werte: Kunsthandel, Sammlungen und Museen im Nationalsozialismus, edited by Ute Haug and Maike Steinkamp. The lectures and the publication were generously funded by the Ernst Barlach Haus, Hamburg, and Stiftung Hermann Reemtsma, Hamburg.
From February 2013 to April 2016, the research team of Gesa Jeuthe and Anja Tiedemann worked on the project The Art Trade under National Socialism. A comprehensive survey analysis with an accompanying documentation of the activities of the galleries Alex Vömel, Düsseldorf, and Karl Buchholz, Berlin, was undertaken. Within this scope, cooperation agreements were established with provenance researchers of the Bayerische Staatsgemäldesammlungen (Bavarian State Painting Collections), Munich, the city of Cologne and the Hamburger Kunsthalle as well as the Koordinierungsstelle (Lost Art Coordinating Centre) in Magdeburg. The project received financial support from the Arbeitsstelle für Provenienzrecherche/-forschung (Post for Provenance Research and Investigation) at the Institut für Museumsforschung (Institute for Museum Research) of the Staatliche Museen zu Berlin.
A cooperation was established in July 2019 between the Department of Provenance Research at the Kunstmuseum Bern and the Liebelt Chair in Provenance Research at the institute of art history of Universität Hamburg. The project Legat Cornelius Gurlitt – Konvolut »entartete« Kunst conducts research on the provenance of about 400 works from the Gurlitt Trove that were supposedly seized from museum collections as »degenerate«. The Kunstmuseum Bern finances a research associate at the Research Centre for »Entartete Kunst« for a period of twelve months. The project ist jointly managed by Jun.-Prof. Dr. Gesa Jeuthe (Hamburg) and Dr. Nikola Doll (Bern).

Provenance research:
Provenance research is concerned with the historic course of ownership of artistic and cultural assets and thus lays the ground for »fair and just solutions« on Nazi-confiscated objects within the framework of the Washington Principles on Nazi-Confiscated Art from 1998. The Research Centre for »Entartete Kunst« and the Liebelt Chair in Historical and Contemporary Provenance Research regularly offer study courses and thus promote young researchers in the field.

Publications by the Research Centre for »Entartete Kunst«:
The work of the research centre is accompanied by a series of publications, largely funded by the International Music and Art Foundation (IMAF), Vaduz, Liechtenstein. The publications document a selection of completed theses, as well as research projects of the centre and its members, partly in cooperation with external specialists. The following volumes have been published or are forthcoming:
Uwe Fleckner (ed.): Angriff auf die Avantgarde. Kunst und Kunstpolitik im Nationalsozialismus, Berlin 2007 (Schriften der Forschungsstelle »Entartete Kunst«, vol. 1)
Maike Steinkamp: Das unerwünschte Erbe. Die Rezeption »entarteter« Kunst in Kunstkritik, Ausstellungen und Museen der SBZ und frühen DDR, Berlin 2008 (Schriften der Forschungsstelle »Entartete Kunst«, vol. 2)
Uwe Fleckner (ed.): Das verfemte Meisterwerk. Schicksalswege moderner Kunst im »Dritten Reich«, Berlin 2008 (Schriften der Forschungsstelle »Entartete Kunst«, vol. 3)
Maike Steinkamp / Ute Haug (eds.): Werke und Werte. Kunsthandel, Sammlungen und Museen im Nationalsozialismus, Berlin 2010 (Schriften der Forschungsstelle »Entartete Kunst«, vol. 4)
Meike Hoffmann (ed.): Ein Händler »entarteter« Kunst. Bernhard A. Böhmer und sein Nachlass, Berlin 2010 (Schriften der Forschungsstelle »Entartete Kunst«, vol. 5)
Uwe Fleckner / Max Hollein (ed.): Museum im Widerspruch. Das Städel und der Nationalsozialismus, Berlin 2011 (Schriften der Forschungsstelle »Entartete Kunst«, vol. 6)
Gesa Jeuthe: Kunstwerte im Wandel. Die Preisentwicklung der deutschen Moderne im nationalen und internationalen Kunstmarkt 1925 bis 1955, Berlin 2011 (Schriften der Forschungsstelle »Entartete Kunst«, vol. 7)
Anja Tiedemann: Die »entartete« Moderne und ihr amerikanischer Markt. Karl Buchholz und Curt Valentin als Händler verfemter Kunst, Berlin 2013 (Schriften der Forschungsstelle »Entartete Kunst«, vol. 8)
Uwe Fleckner / Maike Steinkamp (eds.): Gauklerfest unterm Galgen. Expressionismus zwischen »nordischer« Moderne und »entarteter« Kunst, Berlin 2015 (Schriften der Forschungsstelle »Entartete Kunst«, vol. 9)
Anja Tiedemann (ed.): Die Kammer schreibt schon wieder! Das Reglement für den Handel mit moderner Kunst im Nationalsozialismus, Berlin 2016 (Schriften der Forschungsstelle »Entartete Kunst«, vol. 10)
Felix Billeter (ed.): Kunsthändler, Sammler, Stifter. Günther Franke als Vermittler moderner Kunst in München 1923-1976, Berlin 2017 (Schriften der Forschungsstelle »Entartete Kunst«, vol. 11)
Uwe Fleckner / Thomas W. Gaehtgens / Christian Huemer (ed.): Markt und Macht. Der Kunsthandel im »Dritten Reich«, Berlin 2017 (Schriften der Forschungsstelle »Entartete Kunst«, vol. 12)