Filter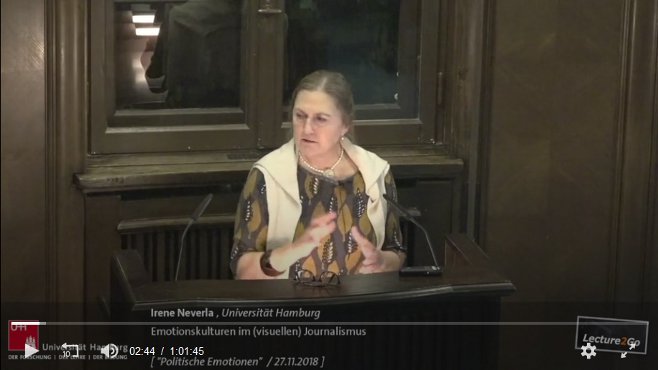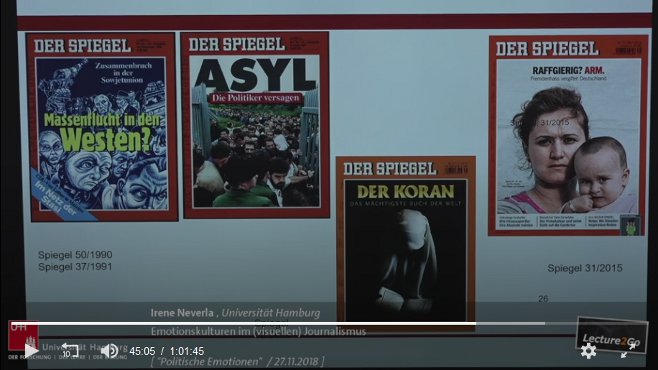 Online: Vortrag von Irene Neverla, Hamburg
Emotionskulturen im (visuellen) Journalismus
Im Rahmen der Vortragsreihe zum Schwerpunktthema "Politische Emotionen" sprach Irene Neverla am Dienstag, den 27. November um 19 Uhr im Warburg-Haus über "Emotionskulturen im (visuellen) Journalismus".
Irene Neverla ist emeritierte Professorin für Journalistik und Kommunikationswissenschaft an der Universität Hamburg (-2017), Mitglied im Direktorium des Research Center for Media and Communication (RCMC) und der Graduate School Media and Communication (GMaC), Principal Investigator im Exzellenzcluster »Integrated Climate System Analysis and Prediction« (CliSAP) und war 2014–2017 Leiterin des Teilprojekts zur Journalismusforschung im Rahmen des EU-geförderten Forschungsprojektes »Media, Conflict and Democratisation« (MeCoDEM).
Die Aufzeichnung erfolgte durch das Team des eLearning-Büros der Fakultät für Geisteswissenschaften und steht auf der UHH-eigenen Plattform Lecture2Go bereit.
Politische Emotionen / Publikationen
---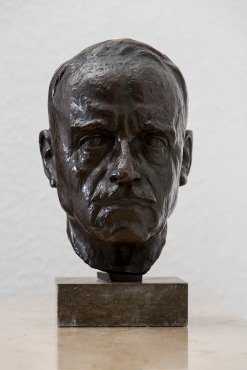 Online: Vortrag von Christoph Martin Vogtherr anlässlich des 89. Todestages von Aby Warburg
Zufall als künstlerische Methode. Watteau, Caylus und die Pariser Akademie
Anlässlich des 89. Todestages von Aby Warburg lud die Aby-Warburg-Stiftung am Dienstag, den 30. Oktober 2018 um 19 Uhr ein zum Vortrag von Christoph Martin Vogtherr, Direktor der Hamburger Kunsthalle: »Zufall als künstlerische Methode. Watteau, Caylus und die Pariser Akademie«. Aby Warburg…
Aby Warburg / Kulturwissenschaftliche Bibliothek Warburg / Publikationen
---
Just published: Aby Warburg: Images from the Territory of the Pueblo Indians in North America. Lectures and photographs
Volume III.2 of Aby Warburg's Collected Writings - Study Edition, edited by Uwe Fleckner
Volume III.2 of Aby Warburg's Collected Writings in the study edition has just appeared: Bringing together Warburg's lectures and photographs, »Images from the Territory of the Pueblo Indians in North America« was edited by Uwe Fleckner. In September 1895, Aby Warburg started out on his…
Aby Warburg / Neuerscheinungen
---