Filter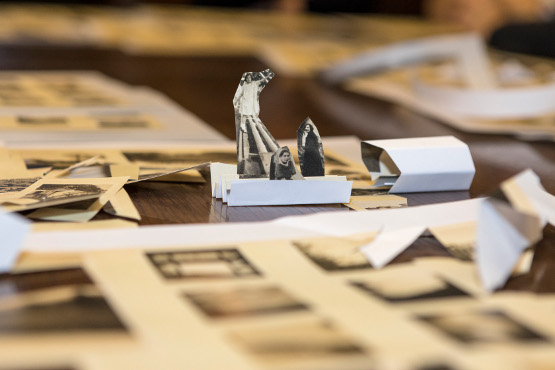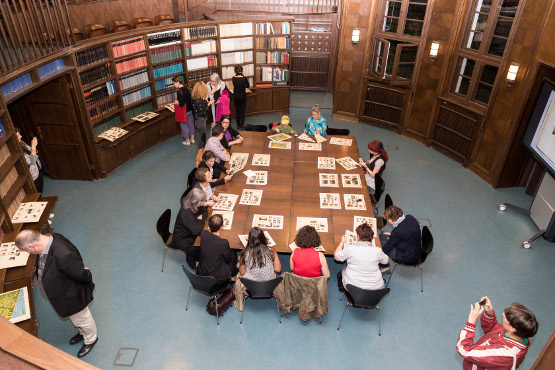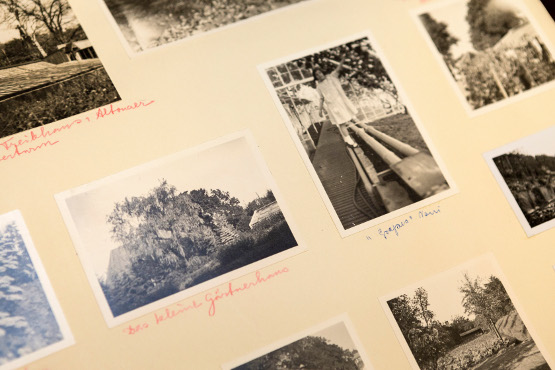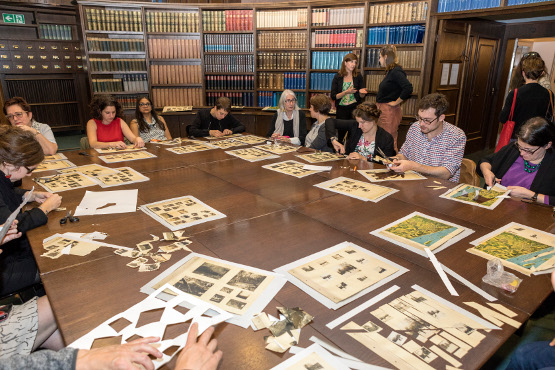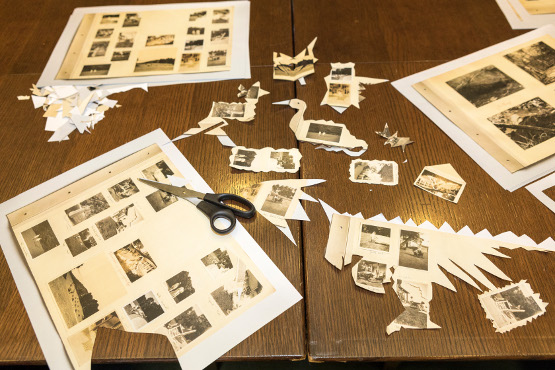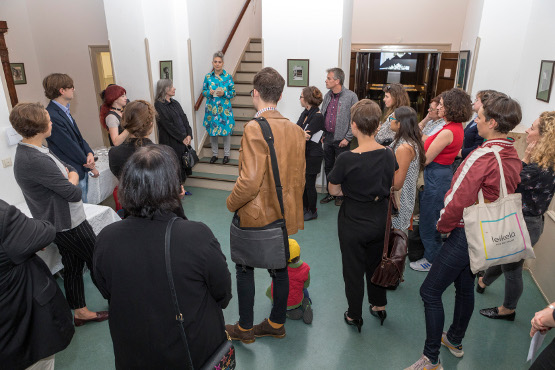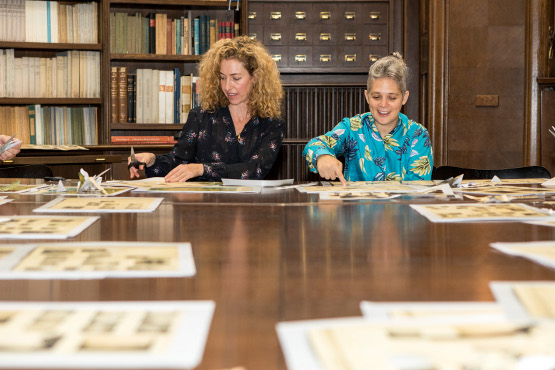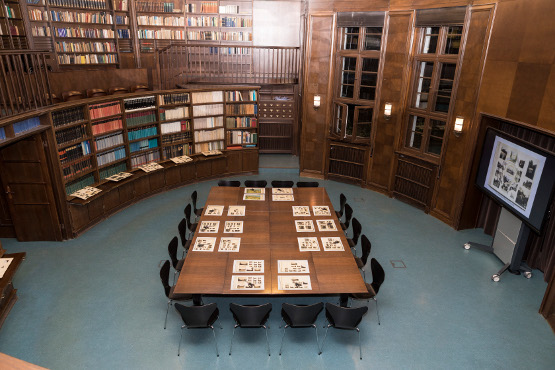 Hila Laviv: SommerHaus-CutOut
An exhibition and performance in the reading room inspired by Anna Warburg's memory album, October 15th + 18th, 2018
Curated by Gil Cohen.
Monday, October 15th, 7.30 pm
Thursday, October 18th, 7 pm
Inspired by Anna Warburg's memory album of the Kösterberg, the historic family estate of the Warburg family in Blankenese/Hamburg, Israeli artist Hila Laviv held, with the help of Dana Yoeli, an exhibition and performance event in the »Lesesaal«, the oval reading room, that was also an initial event of the Warburg-Haus on the occasion of Universität Hamburg's centennial 2019. The album was given to her by her grandmother Charlotte Esther (Noni) Warburg, Aby Warburg's niece and daughter of Anna and Aby's brother Fritz living in Israel.
Hila Laviv lives and works in Tel Aviv. She studied fine arts from 1998 to 2002 at HaMidrasha School of Art, Beit Berl (BA) and from 2008 to 2010 at Bezalel Academy of Arts and Design, Jerusalem (MA). Her recent solo exhibitions include My rainy Day Book in Tel Aviv artist's Studios 2016, Inside surface (with Johanna von Monkiewitsch) at Jagla Ausstellungsraum, Cologne 2015 and No capes at Gallery 39, Tel Aviv 2013. She participated in numerous group shows, such as Butterfly Stroke at indie Photography group gallery, Tel Aviv, in 2015, The Readymade Centennial at Haifa Museum of Art in 2013 and Israeli Post-Minimalism in the Seventies and in Contemporary Art at the Herzliya Museum of Contemporary Art, 2007, to name but a few. She is the recipient of several grants and fellowships, among them a Tel Aviv municipality grant for special projects in 2016, a Joshua Rabinowitz Fund for the Arts grant in 2015 and a scholarship of the America-Israel Cultural Foundation AICF in 2002-03.
Objects of remembrance and mechanisms of narration and history are at the core of her works: »My project is, among other things, an attempt to continue a heritage that could be disconnected and perish from the world.« She often uses simple materials and works with paper and scissors in order to transfer objects and their histories from a two-dimensional into a three-dimensional realm, from memory to presence. Her method of working with cut-outs explores frontiers of visibility and disappearance. In her own words:
»Though my work starts from my love and attachment to a story, my motivation is related to its mechanism. My method is surgical, using scissors and cutter, precise on the one hand and whimsical on the other holding on random things and full of the joy of invention. The works are moving between the concrete story and its shadow while the story fades systematically.«
On two evenings, visitors were invited to discover Anna Warburg's memory album through the artist's work. The original pages of the album were exhibited on the bookshelves of the oval reading room. Guests were invited to take a seat with Hila Laviv at a table in the middle of the reading room and to investigate the mechanisms and history of the memory album in a joint work process on copies of the album, taking up the practice of the artist herself. In the participatory performance, visitors and participants were free to move in the room, extending the experience towards meanings of movement, travel, migration, return and remembrance.
Among Hila Laviv's video works on view, a projection of her stop motion animation video Papers and Scissors (2018, 6:46 min.), bringing to life the images and pages of the album, served as an instruction to the visitors, with narrated text fragments from the English edition of Anna Warburg and Elsa Beskow's book My Rainy Day Book – a Handwork Book for Children from 1938 (George G. Harrap & Co. Ltd).
Pictures © UHH, RRZ/MCC, Mentz
Ausstellung / Die Künste im technischen Zeitalter / Kulturwissenschaftliche Bibliothek Warburg / Universitätsjubiläum 2019
---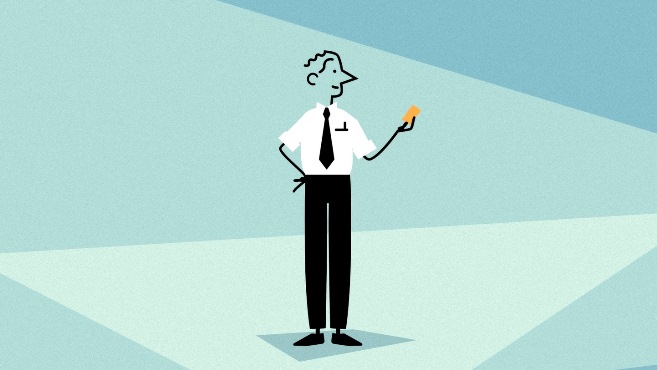 Verzettelt und Vernetzt. Erwin Panofsky und William Heckscher
Eine Online-Ausstellung
Anlässlich seines 125. Geburtstags präsentieren wir hier einige Fotos, Dokumente und Aufzeichnungen zu Erwin Panofsky (30. März 1892 – 14. März 1968) – und studentische Arbeiten, die sich dem Archiv seines Schülers William Heckscher widmen. Im Rahmen des Seminars "Verzettelt und…
Erwin Panofsky / William Heckscher
---