Filter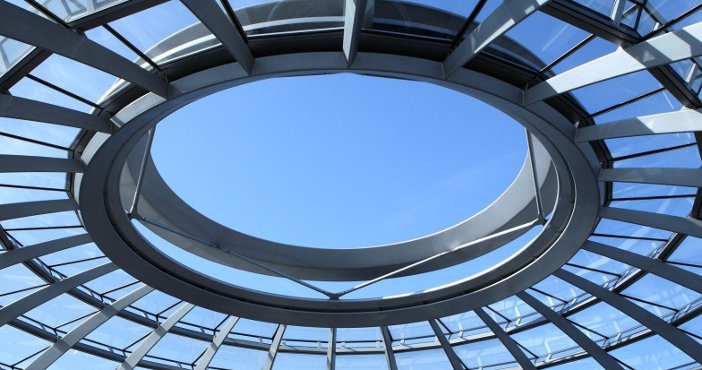 Call for Papers: Warburg International Seminar 2018 »Political Emotions in the Arts«
Deadline 31 March 2018
Philipp Ekardt, Frank Fehrenbach, Cornelia Zumbusch
The role of emotions in politics is currently subject to intensive debates. Sociology, political science and political philosophy have identified such feelings as trust, hope, fear, outrage or contempt as motors of protest movements, as part of democratic processes of opinion-forming or as both driving and resisting forces in processes of globalization. The question of the function and legitimacy of emotions in politics is particularly persistent: Do politics need more pathos? Or is the reverse case imperative, that is, do feelings need to be kept out of political processes, since they are inevitably unsteady and prone to manipulation? Can political decisions be taken fully rationally, at all, or are politics simply unthinkable without emotions?
Taking on these current issues, the Warburg International Seminar 2018 »Political Emotions in the Arts« addresses the history of mutual implications of politics and emotions in the medium of the arts. We assume that the expression of sentiment and emotional excitation, stimulation, mobilization or manipulation of political subjects are fundamentally dependent on media – be it images, monuments and edified spaces, texts and productions, photography and film etc. Since antiquity and the early modern times, visual formulas and textual genres have emerged in monuments and buildings, portraits and poetic praise of rulers, pageants and forms of courtly theatre, that propagate specific emotional conditions or aim to directly emotionalize recipients. Models of affects such as that of the self-possessed, charismatic or even melancholy absolutist sovereign, ›republican‹-civil ideals of feelings such as patriotism, compassion, (maternal) care or sympathy, agency objectives such as enthusiasm or admiration and effects such as horror, terror or hysteria address affective situations that are held responsible for claims to leadership of so-called ›great men‹ and ›tactical queen regents‹, for the cohesion of political entities, for psychological group phenomena such as subversion and revolution or for a turning of such movements into terror and fright. This historically firmly established nexus of politics, emotions and media currently gains new dimensions via social media, e.g. in emotional cultures of outrage, of ›trolling‹, that is, provocative-inflammatory speech, but just as well in the establishing of solidarity via online technologies. The real-time spreading of images, texts, sounds etc. through Internet increasingly blurs the boundaries between the affected and the affecting subject. The visual arts in particular find themselves at the same time confronted in new ways with demands to induce emotions that are politically desired (solidarity, indignation, shame, etc.).
With regard to differentiations in history and media, the Warburg Seminar shall provide a frame to investigate the ways in which links between politics and emotions have been, and still are, established. How do the arts contribute to (de-) emotionalizing political processes? How do they organize the nexus of politics and emotionality, where do they reflect this relation? And how do the arts devise their very own creative actions and formal potentials in this context? Special attention could be given to the role of arts in situations of upheaval in politics, but as well in media and technology, that lead to increased efforts in criticizing old organizational models and the validation, establishing and strengthening of new ones.
For instance, can we observe changes in the functions of dramatic forms, that have since antiquity been entrusted with the arousal of such highly diverse emotions as terror, admiration or compassion? What are the logics followed in conversions towards different agency objectives? What is the relation of static and performative visual forms to the shaping of specific types of affects? How can we grasp the recursive processes in the staging of political feelings that ultimately even aim at the sovereign himself, e.g. in Early Modern spectacle culture? How can public monuments and memorial sites be understood as focal points of political emotions throughout their historic development, and in the periods between erection, presence, and transformation, relocation, or destruction? What are the different strategies of affect management developed with regard to new media technologies, such as in the adaptation of rhythmical breaks in the works of Eisenstein giving shape to a film editing that appropriates the revolutionary pathos, in Benjamin's conceptualization of the shock, or in the intentionally ›cool‹ style of the New Objectivity reportage literature following photography, allegedly deemed sober? What rivalries of media or changes of media are to be observed since then: Have digital media at present predominantly taken over the function of production and circulation of images that generate horror (terror) or compassion (solidarity)? How does the linguistic shaping of emotion change in the age of digital technologies? And, might there be a repertoire of pathos formulas that can be thought of as a formal continuum of (perhaps not only visual) affect politics?
The Warburg International Seminar 2018 invites young researchers with a background in Cultural Studies, especially art history, as well as in Literature, Theatre, Film or Media Studies. The organizers invite to the Warburg-Haus for a one-week session from October 15th through 18th, 2018 to present and discuss text drafts. The texts are to be finalized afterwards and it is planned that they will be published in the series »Mnemosyne. Warburg International Seminar Papers«.
The seminar will be held in English and German. All travel and accommodation expenses will be covered by the organizers. Applications including a short CV (resume) and detailed exposé must be submitted by 31 March 2018 to cornelia.zumbusch@uni-hamburg.de.
Call for Papers / Warburg-Kolleg
---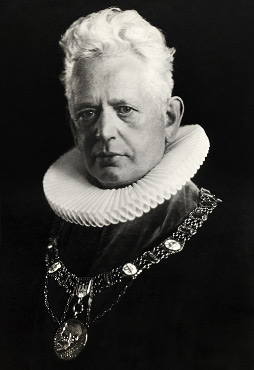 28. Juli 2017 – 143. Geburtstag des Philosophen Ernst Cassirer
von Birgit Recki anlässlich des Geburtages des großen Kulturphilosophen und Erkenntnistheoretikers
Ernst Cassirer, der sein philosophisches Werk in engem Kontakt mit der Kulturwissenschaftlichen Bibliothek Warburg und im intensiven Austausch mit ihrem Gründer entwickelte, wurde am 28. Juli 1874 als zweites von sieben Kindern des Kaufmanns Eduard Cassirer und seiner Frau Jenny in Breslau…
Ernst Cassirer / Kulturwissenschaftliche Bibliothek Warburg
---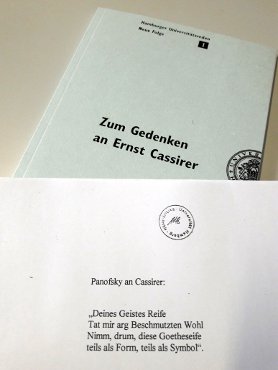 "Deines Geistes Reife": Erwin Panofsky schreibt Ernst Cassirer ein Kurzgedicht
Zum Geburtstag von Ernst Cassirer: Ein Fundstück aus dem Warburg-Archiv
Zum Geburtstag des bedeutenden Kulturphilosophen und Philosophiehistorikers, Erkenntnis- und Wissenschaftstheoretikers Ernst Cassirer (*28. Juli 1874) zeigen wir ein Fundstück aus dem Warburg-Archiv im Warburg-Haus, Nr. 1048: Panofsky an Cassirer Deines Geistes Reife Tat mir arg…
Ernst Cassirer / Kulturwissenschaftliche Bibliothek Warburg
---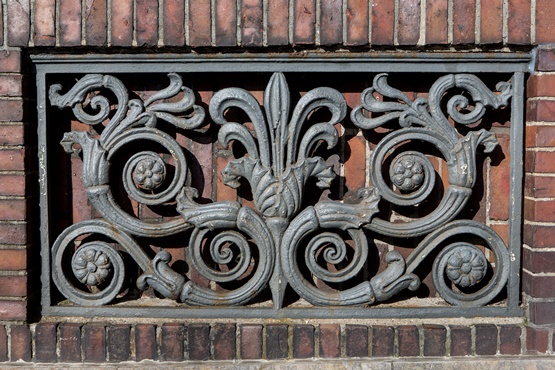 "wir suchen unsere Ignoranz auf und schlagen sie, wo wir sie finden"
Aby Warburg über seine Leitsätze
Anlässlich seines Seminars an der Universität Hamburg im Wintersemester 1925/26 formulierte Aby Warburg zwei Leitsätze – der liebe Gott, der im Detail stecke, ist vielzitiert und heute sehr bekannt. Aber auch der zweite, den Warburg an erster Stelle nennt, scheint heute als Apell…
Kulturwissenschaftliche Bibliothek Warburg / OnThisDay
---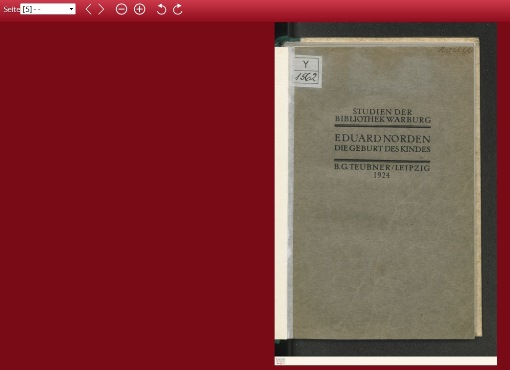 Studien der Bibliothek Warburg digital zugänglich
Staats- und Universitätsbibliothek Hamburg digitalisiert Publikationen der K.B.W.
Über die Staats- und Universitätsbibliothek ist nun ein Teil der Studien der Bibliothek Warburg digital und open access abrufbar. So kann man beispielsweise den 1924 erschienenen Band "Die Geburt des Kindes. Geschichte einer religiösen Idee" von Eduard Norden nicht nur auf der…
Kulturwissenschaftliche Bibliothek Warburg
---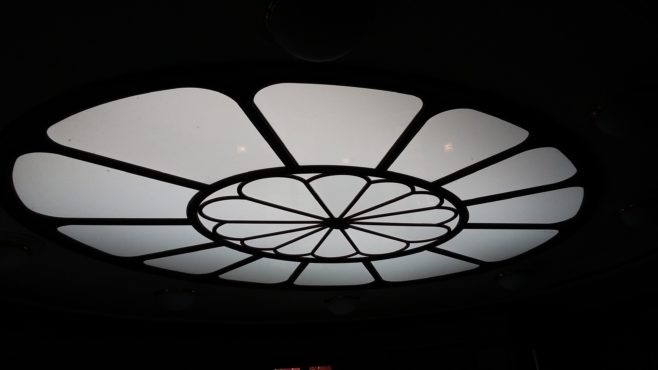 Die Ellipse als visuelles Symbol der Freiheitsidee
Warburg und Cassirer I
Im ehemaligen Lesesaal der Kulturwissenschaftlichen Bibliothek Warburg tagen die Teilnehmerinnen und Teilnehmer bei ihren Veranstaltungen unter einem elliptischen Oberlicht. Dies ist ausdrücklich dafür geschaffen, dass man sich hier an Freiheit erinnert und zur Freiheit ermutigt sieht. Aby…
150. Geburtstag Aby Warburgs / Kulturwissenschaftliche Bibliothek Warburg
---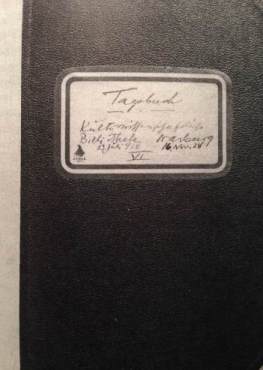 "Fühlungnahme durch tägliche Tagebuchnotizen"
Vor 90 Jahren: die Kulturwissenschaftliche Bibliothek Warburg beginnt ihr Tagebuch
Heute vor 90 Jahren, am 24. August 1926, führte Aby Warburg das "Tagebuch der Kulturwissenschaftlichen Bibliothek Warburg" ein. Nach dem Einzug der K.B.W. in den Neubau sollten regelmäßige Eintragungen Warburgs und der Kollegen Gertrud Bing und Fritz Saxl die Aktivitäten in der…
Kulturwissenschaftliche Bibliothek Warburg / OnThisDay
---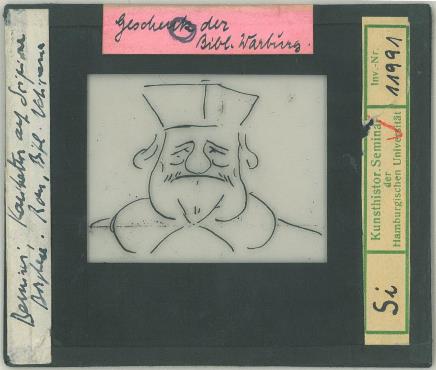 Die Diasammlung. Labor und Archiv der Kunstgeschichte in Hamburg
Ausstellungstipp
Mit der Digitalisierung verlieren Diapositive für die kunstgeschichtliche Forschung und Lehre an Bedeutung – höchste Zeit, sie als historische Objekte und Zeugnisse der Wissenschaftsgeschichte in den Blick zu rücken: Studierende am Kunstgeschichtlichen Seminar der Universität Hamburg sind…
Kulturwissenschaftliche Bibliothek Warburg
---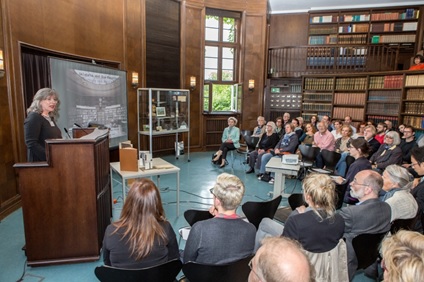 Volles Warburg-Haus mit Aby und Mary, Wissenschaft und Kunst
Rückblick auf den Tag der offenen Tür zum 150. Geburtstag von Aby Warburg
Ein volles Haus zu Ehren Warburgs! So viele interessierte Besucherinnen und Besucher zu unserem Tag der offenen Tür zum 150. Geburtstag des Kunst- und Kulturwissenschaftlers begrüßen zu können, war ein tolles Geburtstagsgeschenk am 13. Juni. Die rege Berichterstattung und das große…
150. Geburtstag Aby Warburgs / Kulturwissenschaftliche Bibliothek Warburg / Publikationen / Warburg-Professur
---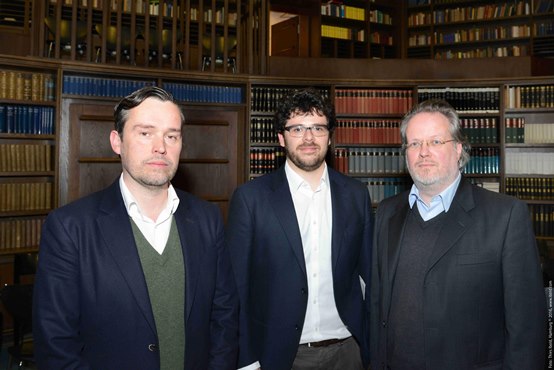 Bau und Bibliothek
Zum 90. Jahrestag der Eröffnung der K.B.W.
Am 1. Mai 1926 wurde die Kulturwissenschaftliche Bibliothek Warburg mit einem Vortrag von Ernst Cassirer feierlich eröffnet. Architektur und Bibliothek, Innen und Außen waren in der Konzeption der K.B.W. auf das Engste verknüpft. Genau diese Beziehung zwischen Bau und Büchern bildete auch den…
Kulturwissenschaftliche Bibliothek Warburg
---